"I am humbled and honored to receive the ACRM Distinguished Member Award", said Dr. Gorgey. "This award reflects our research groups' many years of hard work to help people with SCI live healthier and happier lives. We have received tremendous of support from the McGuire V.A. and McGuire Research Institute, and the VCU Center for Rehabilitation Science and Engineering. I am especially grateful to our research participants who have had SCI and volunteered to be in studies that often take a lot of time with no guarantee of improvement."
Dr Gorgey and his research team develop rehabilitation interventions that increase mobility and reduce health-related complications following SCI. In particular, he evaluates the effectiveness of using epidural stimulation and exoskeletons to increase exercise and health following SCI. And initial results have been promising.
"We published an important case report that showed 12 weeks of exoskeleton training coupled with epidural stimulation of the spinal cord may enhance motor recovery in a person with C7 motor complete SCI," said Gorgey.
His research team's method of delivering non-invasive epidural stimulation for the purpose of helpi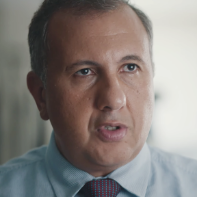 ng people with SCI walk is highly regarded as innovative with the potential for promising results. And the U.S. Department of Defense-Congressionally Directed Medical Research Program for SCI agrees. They have recommended for funding a $3.6M clinical trial grant to VCU CERSE led by Dr. Gorgey to study providing noninvasive epidural stimulation while using an exoskeleton to improve walking.
The collaboration between McGuire V.A. and VCU has been critical to accelerating this innovative research, leveraging human resources and clinical and research expertise at both institutions.
"VCU's Center for Rehabilitation Science and Engineering is a nationally recognized interdisciplinary research center that supports many researchers across VCU schools and the McGuire V.A. to advance people's health and wellness across conditions," said VCU Associate Dean of Innovation and Systems Integration, David Cifu, M.D. "I appreciate the innovation, collaboration, and focus on improving outcomes that is indicative of our VCU faculty and V.A. partners working together. The innovative work of Dr. Gorgey and his research team are an excellent example of this cooperative spirit."
Dr. Gorgey's efforts have not been restricted to doing research studies alone. He is currently chairs the ACRM Functional Electrical Stimulation and Technology task force, whose primary aims are to promote high quality research and evidence-based clinical application of functional electrical stimulation and other technologies for people with SCI.